Welcome, my fellow food aficionados, to a culinary experience that transcends the ordinary and embraces the extraordinary. As the snowflakes gently blanket the world outside, we gather in our warm kitchens to embark on a delightful adventure that combines tradition, innovation, and a sprinkle of holiday magic. I am thrilled to unveil a recipe that has captured the hearts of many and has become a cherished masterpiece at the esteemed Food And Meal restaurant – the exquisite Santa's Short Bread Delights.
Santa's Short Bread Delights
Greetings, fellow food enthusiasts and culinary adventurers! Today, I am thrilled to unveil a recipe that embodies the very essence of holiday cheer – the enchanting and delectable Santa's Short Bread Delights. As a seasoned food blogger and chef with a passion for creating memorable dishes, I am delighted to share with you this cherished recipe that has captured the hearts and palates of countless diners at the renowned Food And Meal restaurant.
Ingredients
1

cup

all-purpose flour

1/2

cup

butter, softened

1/2

cup

confectioners' sugar

3/4

tsp

vanilla extract
Instructions
Mix all of the ingredients together until the dough is workable and smooth.

Divide the dough in half.

Press each of the halves onto an ungreased 8 inch round tin.

Spread the dough evenly until it is smooth on top and cut shortbread into eight wedges.

Bake at 350° for 20 min, until light brown.

Remove tray from oven and cut into wedges.

Cool for 30 min, and then transfer onto a wire rack.
Notes
Our team of passionate chefs at Food And Meal restaurant has honed this recipe to perfection, and we're excited to share some insights to make your baking experience seamless and enjoyable. For the best results, ensure your butter is at room temperature to achieve that perfect melt-in-the-mouth consistency. Using high-quality vanilla extract and freshly grated nutmeg will elevate the flavor profile, making each bite a sublime delight.
For Whom and Why It's a Holiday Gem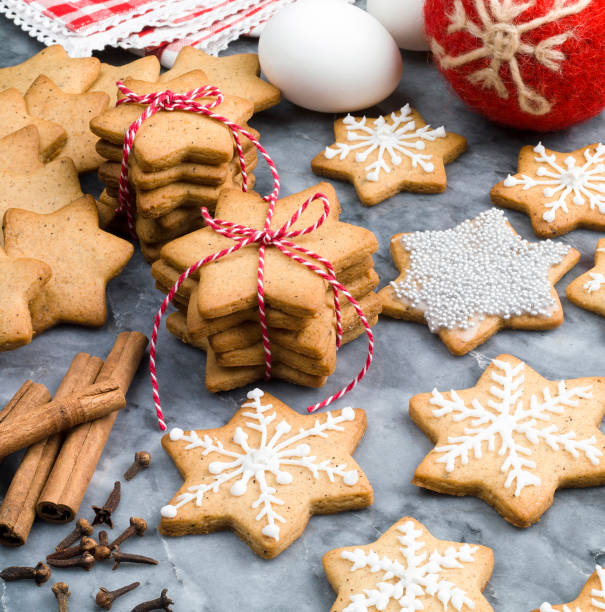 Santa's Short Bread Delights are a divine manifestation of the holiday spirit and culinary expertise. Crafted with a blend of tradition and innovation, this recipe is perfect for both the seasoned home cook and the adventurous culinary explorer. Whether you're hosting an intimate family gathering or a lively holiday soirée, these delightful treats will undoubtedly steal the show.
What makes Santa's Short Bread Delights truly remarkable is their ability to transcend taste, time, and age. With their buttery crumbly texture and the irresistible aroma of warm spices, they instantly transport you to a cozy winter wonderland. Children and adults alike will find themselves spellbound by the flavors that evoke cherished memories and create new ones.
Frequently Asked Questions
Can I make Santa's Short Bread Delights in advance? Absolutely! These delights can be prepared a day ahead and stored in an airtight container at room temperature. Their flavors actually deepen with time, making them even more enchanting.
Can I freeze Santa's Short Bread Delights? Certainly. They freeze remarkably well. Place them in a single layer in an airtight container with parchment paper between layers to prevent sticking. Thaw at room temperature before serving.
Can I substitute the spices in the recipe? Certainly. While we adore the warmth of nutmeg, you can experiment with cinnamon, allspice, or even cardamom for an intriguing twist on the classic flavor.
How long do the leftovers stay fresh? If stored properly in an airtight container, Santa's Short Bread Delights can remain fresh for up to a week, maintaining their delightful texture and taste.
Can I make a gluten-free version of this recipe? Absolutely. Swap out the all-purpose flour for a high-quality gluten-free flour blend, and ensure that your other ingredients are also gluten-free. The result will be just as delightful.
Kitchen Equipment Needed
Mixing bowls
Electric mixer or stand mixer
Baking sheets
Cookie cutters or molds
Rolling pin
Parchment paper
Serving Suggestions Santa's Short Bread Delights
Holiday Dessert Extravaganza: Santa's Short Bread Delights shine as the star dessert on your holiday table. Pair them with a scoop of creamy vanilla bean ice cream and a drizzle of warm caramel sauce for an unforgettable dessert experience.
Tea-Time Tranquility: Elevate your afternoon tea with these delicate delights. Serve them alongside a steaming cup of spiced chai tea or aromatic Earl Grey for a moment of pure indulgence.
Gifting with Love: Share the joy of the season by gifting a beautifully arranged box of Santa's Short Bread Delights. Their rich buttery taste and festive presentation make them a cherished present for friends, family, or coworkers.
There you have it, dear food enthusiasts – the enchanting Santa's Short Bread Delights that are sure to add a touch of magic to your holiday festivities. Delight in their buttery goodness, share the joy with loved ones, and spread the culinary love by sharing this recipe far and wide. Don't forget to subscribe to our blog for more culinary adventures and exquisite recipes. Until next time, may your kitchen be filled with laughter, love, and the aroma of delightful creations. Happy baking and happy holidays! 🎄🍪