Greetings, fellow food enthusiasts and culinary adventurers! Today, we're excited to unveil a recipe that's not just a treat for the taste buds, but a feast for the eyes and a spark of holiday magic. Step into our world of culinary creativity as we introduce you to the enchanting Rudolph's Butter Cookies. With the passion of seasoned chefs and the heart of a food blogger, we're here to share the joy of this whimsical creation.
Rudolph's Butter Cookies
Rudolph's Butter Cookies aren't just cookies; they're edible masterpieces that bring delight to all ages. Imagine the golden crunch of buttery cookies combined with the playfulness of decorating each one to resemble Rudolph the Red-Nosed Reindeer. Whether you're a skilled chef or a home baker exploring new heights, these cookies invite you to savor the art of both taste and presentation.
Ingredients
1/4

cup

butter, softened

1/4

cups

sugar

1

egg

3/4

cups

all-purpose flour

1

tbsp

fresh lemon juice

1/2

tsp

grated lemon peel

1/4

tsp

baking powder

Pinch of salt

Add sugar as needed
Instructions
Combine the butter and sugar with electric mixer until creamy.

Beat in egg until fluffy. Stir in flour, lemon juice and peel, baking powder, and salt.

Cover and refrigerate for 2 1/2 hours.

Roll out the dough 1/4 inch thick on a floured surface with rolling pin.

Cut with a 3 inch round cookie cutter.

Transfer dough to ungreased cookie sheets, and sprinkle with sugar.

Bake at 350° for 10 min. Cool for 5 min, and place on wire rack.

Store in an airtight container.
Notes
From our kitchen to yours, Rudolph's Butter Cookies encapsulate the joy of the holiday season and the magic of culinary creation. They're not just cookies; they're edible expressions of art and love.
FAQs: Unveiling the Magic
What makes Rudolph's Butter Cookies special for the holidays? Discover the art of turning cookies into Rudolph the Red-Nosed Reindeer characters, adding a touch of whimsy to your festive celebrations
Can I use different types of cookie cutters? Absolutely! Learn how to adapt this recipe to various cookie cutter shapes, allowing you to explore different themes beyond Rudolph.
What's the best way to decorate the cookies? Explore decorating tips and ideas that bring Rudolph and his friends to life, creating an edible display of holiday cheer.
Can I make the cookie dough ahead of time? Absolutely! Learn about the convenience of preparing the cookie dough in advance and freezing it for later use.
How should I store the decorated cookies? Discover the best practices for storing these cookies to ensure their freshness and visual appeal.
Tips and Tricks for Perfect Rudolph's Butter Cookies
Chilled Cookie Dough:Before rolling out your cookie dough, ensure it's properly chilled. Chilled dough is easier to work with and holds its shape better when cut with cookie cutters.
Non-Stick Rolling:Dust your rolling pin with a little flour to prevent the dough from sticking. This will make rolling out the dough smoother and more efficient.
Parchment Paper Magic:When placing cut-out cookies on baking sheets, use parchment paper to prevent sticking and make clean-up a breeze.
Avoid Overmixing:When making the cookie dough, mix until just combined. Overmixing can lead to tough cookies, so stop as soon as the ingredients are blended.
Decorating Precision:For accurate and detailed decorating, use a small piping tip for icing and a toothpick for finer details. This ensures your Rudolph cookies look as whimsical as possible.
Icing Consistency:For decorating, achieve the right consistency with your icing by adjusting the amount of liquid. Thicker icing works better for outlining, while slightly thinner icing is perfect for flooding and filling.
Patience in Decorating:Allow each layer of icing to set before adding additional details. This prevents colors from bleeding and helps create crisp, clean designs.
Get Creative:While Rudolph is the star, don't be afraid to add other holiday-themed designs to your cookie collection. Think snowflakes, stockings, and ornaments.
Storage Magic:To keep your beautifully decorated cookies looking their best, store them in an airtight container, separating layers with parchment paper to prevent sticking.
Embrace Imperfections:Remember that the joy of these cookies comes from their whimsical appearance. Embrace imperfections and variations in design – they add character and charm.
Serving sugestions Rudolph's Butter Cookies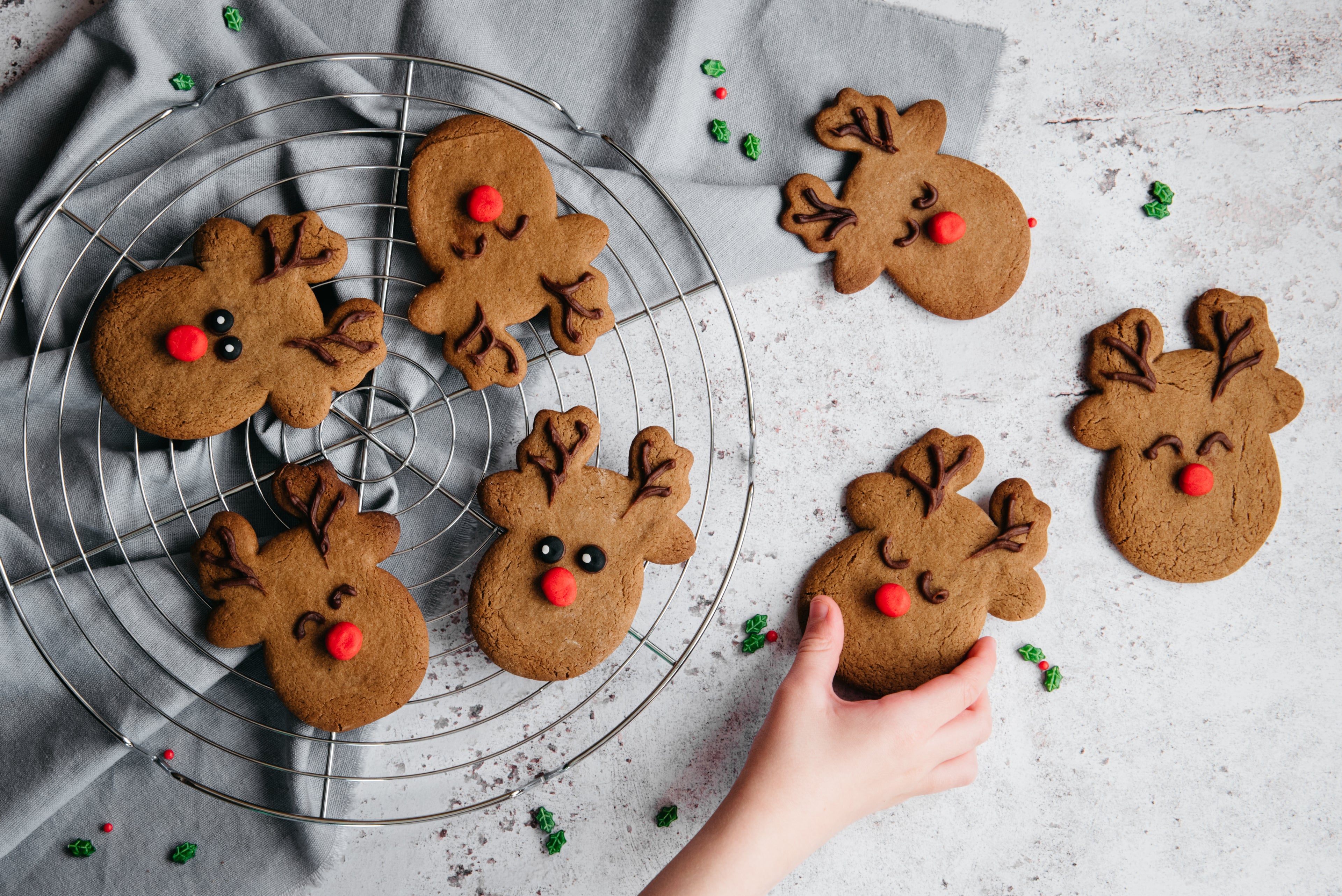 Family Bonding: Gather the little ones and embark on a joyful baking adventure. Let their creativity shine as they decorate these cookies, creating cherished memories that will last a lifetime.
Festive Gatherings: Elevate your holiday gatherings with a plate of Rudolph's Butter Cookies. Their whimsical appearance and delightful taste make them a conversation starter and a joyful addition to your dessert table.
Edible Gifts: Looking for a thoughtful gift that embodies the spirit of the season? Package a batch of these cookies in a festive tin or box, and watch the smiles light up as you present Rudolph-inspired treats to your loved ones.
Share this recipe with friends, family, and fellow enthusiasts who appreciate the joy of combining taste and creativity. Subscribe to our blog for more culinary inspiration, and become part of a community that celebrates the enchantment of cooking and sharing. As you relish each buttery bite and delight in the whimsical design, let Rudolph's Butter Cookies become a cherished part of your holiday festivities. Happy baking and happy sharing! 🎄🍪